Added to your cart - Front Traveler Magnetic Bike Lights
Shipping & Assembly
We can send your tokyobike the easy way or the easier way.
Option 1. We'll ship it to a local bicycle shop near you (our recommendation)
We use your shipping address to select a bike shop near you with the highest reputation. And where possible, we choose shops we've had success with in the past and know first-hand to be the most friendly. Once a shop is selected and your assembly is organized, our team will notify you via email. It usually takes a bike shop 1-10 days to assemble your new tokyobike after it arrives with them. We can't control bike shop assembly times, but we do our best to choose shops that are known for their speedy service.

Once your tokyobike is assembled, your local bike shop will contact you for pick up. Assembly fees typically range from $75-160, depending on where you live. Make sure you save your receipt and email it to us right away at info@tokyobike.us, along with your bicycle's serial number for registration. In exchange, we'll send you a $100 digital tokyobike gift card.

If you also purchased accessories that need professional installation (such as racks, baskets or fenders), those will be shipped to your local bike shop, too - unless you request otherwise. Accessories or life goods that don't need professional assistance will be sent straight to your shipping address.
‍
Option 2. We'll ship it to you directly (assembly required)
If you'd prefer to have your tokyobike sent directly to you, we deeply respect that. We'll send it to your shipping address and, from there, you'll need to organize assembly yourself. Please note, we don't include assembly instructions because we believe professional assembly will provide you with a safer and longer-lasting bicycle. And proof of assembly by a professional mechanic is necessary to maintain your one-year warranty. Once you organize professional assembly on your own, don't forget, you still qualify for a $100 gift card with a copy of your receipt.

For international customers, only this option is available. And for pre-orders, please refer to our Pre-Orders T&C here.

Help
At tokyobike we want to ensure you are making your purchase with as much information as is necessary and provide a positive shopping experience. If you have any questions, please read our FAQ or contact us directly.
Choosing the right bicycle

If you are unsure which bike model is right for you, our Comparison tool breaks down all of the design and technical differences.

Choosing the best size Please use our "Find your Size" tool next to the size selection. If you are between sizes, we typically recommend to size down. If you are still unsure, please reach out and we can help!

Return policy If for some reason you are not satisfied with your tokyobike bicycle, you are welcome to return it within 14 days of pick up at your local bicycle shop or from a tokyobike dedicated shop. Please note, all bicycle returns incur a 30% restocking fee and bicycle exchanges incur a 15% restocking fee on full retail price. Read full return policy.

Warranty Our 1-year manufacturer warranty covers manufacturer defects to all moving parts on your tokyobike. Proof of assembly by a professional mechanic is required to maintain your 1-year warranty. Read full Warranty details.

Call us at (213) 395-0747

Email us at info@tokyobike.us

Live chat is available Mon-Fri 9am-5pm PST.

Front Traveler Magnetic Bike Lights
Light the way with the Traveler Lights by Thousand. Made for the modern urban traveler, they were designed alongside real riders to be more stylish, sustainable, and intuitive. Are you ready to unlock your city after hours?

Fulfilled by our friends at Thousand
Read More
Traveler Magnetic Bike Light
And when we least expect, here comes thousand with another brilliant bicycle accessory. The Traveler Magnetic Light is easy, simple and a gorgeous addition to the collection. With an easy magnetic mounting, seamless mode switching, and USB rechargeable, this is the one light set you need when commuting through the city.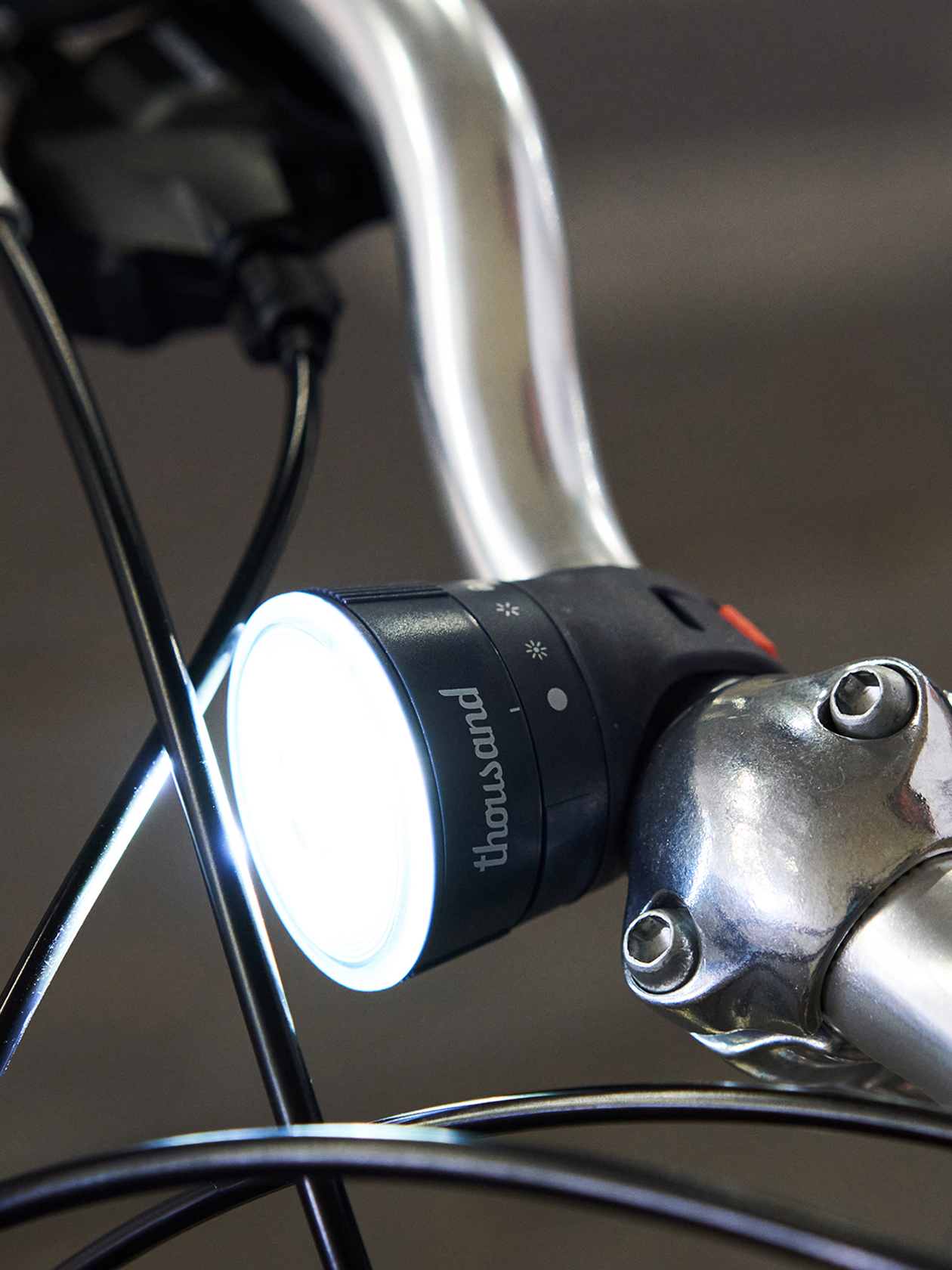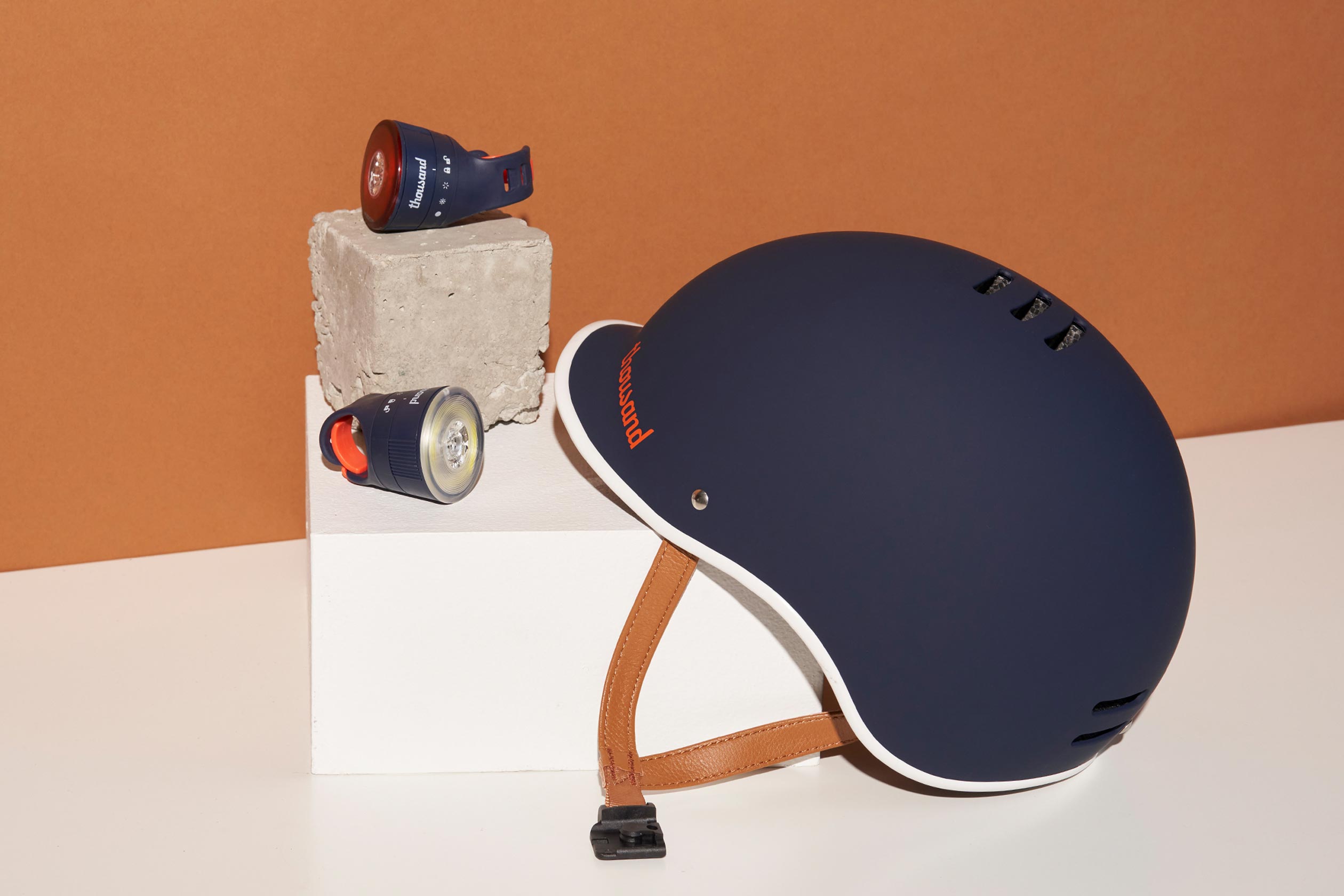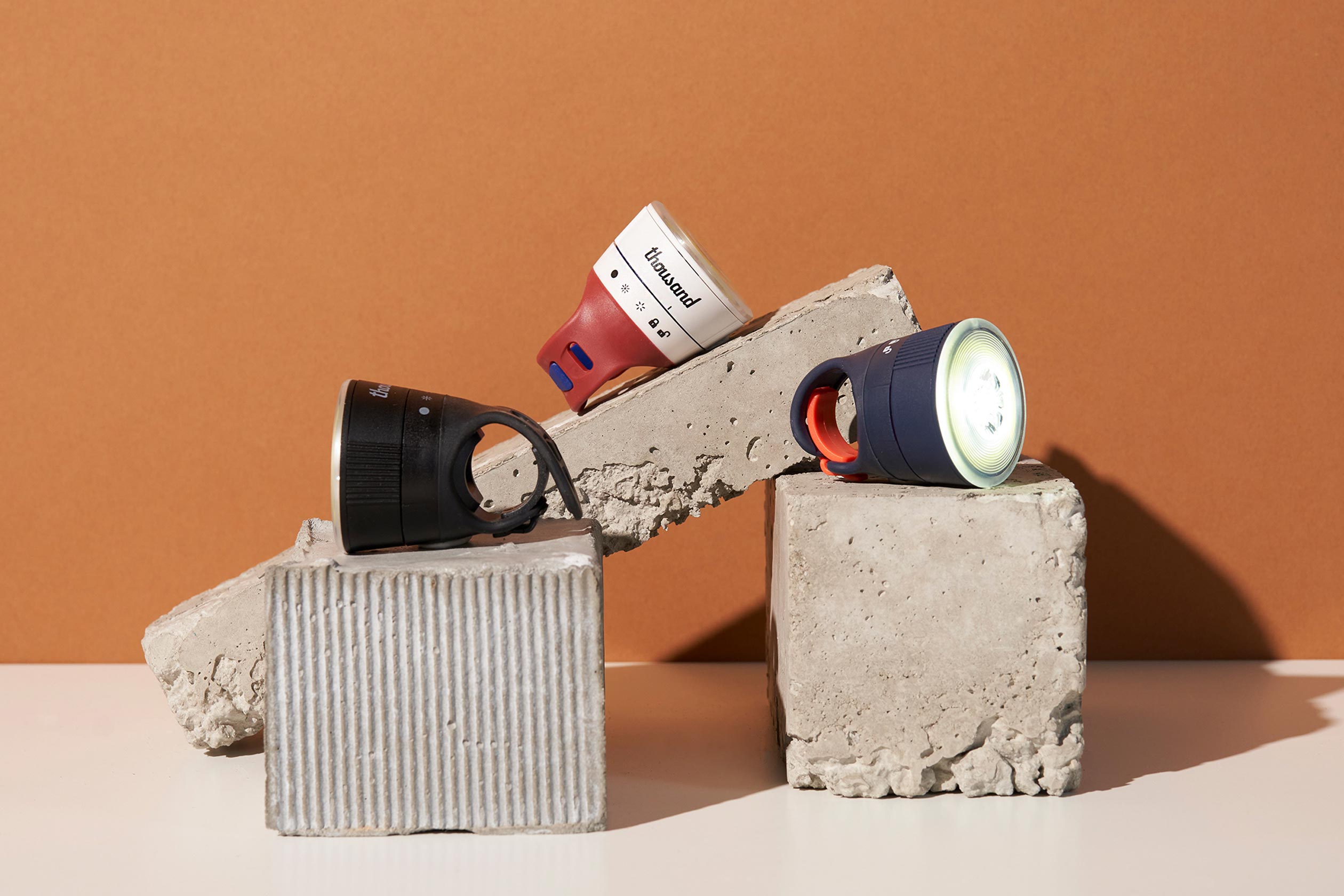 Specifications
Front light, handlebar mount, rear light, seat post mount, and two USB-C charging cables includ
USB rechargeable with a 2 hour charge time
Magnetic mount allows for easy removal and installation of lights and helps to deter theft
Simple dial allows for quick and easy switching between 3 light modes
Lightweight product with 40 g light and 20 g mount
Compatible with 22.2-35 mm handlebars (front) and 25.4-35 mm seat posts (rear)
Water resistant and protected from light rain showers (IPX4)

Front
Solid: 100 lumens, 8 hour runtime
Daylight Flash: 250 lumens
6 hour runtime Eco Flash: 30 lumens, 36 hour runtime

Rear
Solid: 35 lumens, 4.5 hour runtime
Daylight Flash: 80 lumens, 3.75 hour runtime
Eco Flash: 10 lumens, 22 hour runtime
About thousand
thousand is an LA-based helmet brand founded by long-time cyclist Gloria Hwang. Created with the mission to foster cycling safety and reconnect people to their cities. Both functional and wearable, thousand is a member of 1% For the Planet—dedicated to using a business model that is both sustainable and low-impact, producing high-quality gear without unnecessary environmental harm.
Front light, handlebar mount, rear light, seat post mount, and two USB-C charging cables includ
USB rechargeable with a 2 hour charge time
Magnetic mount allows for easy removal and installation of lights and helps to deter theft
Simple dial allows for quick and easy switching between 3 light modes
Lightweight product with 40 g light and 20 g mount
Compatible with 22.2-35 mm handlebars (front) and 25.4-35 mm seat posts (rear)
Water resistant and protected from light rain showers (IPX4)

Front
Solid: 100 lumens, 8 hour runtime
Daylight Flash: 250 lumens
6 hour runtime Eco Flash: 30 lumens, 36 hour runtime

Rear
Solid: 35 lumens, 4.5 hour runtime
Daylight Flash: 80 lumens, 3.75 hour runtime
Eco Flash: 10 lumens, 22 hour runtime