New York Summer Days
The oft-unbridled energy of New York City in the summer months means there's always somewhere to be. For Nate Cover, creative director and LGBTQ+ travel writer, it's all about finding spaces that reflect your community.

He's curated a shortlist of his favorite haunts across Brooklyn and downtown Manhattan, from the city's best burger joint to a jazzy Chinatown speakeasy—plus a bunch of other queer-friendly spaces to keep you entertained and well-nourished while you're in town.
Superiority Burger
This tiny burger joint in the East Village is a no-brainer. Everything on the menu is vegetarian, most of it's accidentally vegan, and all of it is A+ plant-based witchery. Grab a slider and side du jour and snuggle into one of the booths, or brown bag it and find a spot in Tompkins Square Park to rate other people's dogs.
430 East 9th Street, East Village

Usagi
Half design store, half kissaten, this cafe is a catalyst for creative thought. Hidden on a quiet cobblestone street near the Dumbo waterfront, the matcha at Usagi is always the right temp, and the coffee table books will keep you stimulated at least until the bottom of your glass.
163 Plymouth Street, Dumbo

MeMe's Diner
A cute-as-hell diner in Prospect Heights with a heavy-hitting menu from brunch til dinner. When two queer angels opened MeMe's last fall, they set out to create a safe space for customers and employees alike. Now, the diner is a revered neighborhood haven with a kickass (and patriarchy-free!) chicken sammy.
657 Washington Avenue, Prospect Heights
Lalito
A healthy dose of Californian nonchalance anchored by unapologetic latin flavors, Lalito is the cafe-restaurant-bar you've been missing. A go-to for anything from client catch-ups to dates after dark, the menu is killer and the staff are oh-so sweet. And if you can't decide, just go with the vegan caesar salad.
104 Bayard Street, Chinatown

Pioneer Works
This reclaimed industrial building in Red Hook serves as a beautiful canvas for some of the city's most immersive art installations. Keep a tight eye on their channels for their exhibition pipeline.
159 Pioneer Street, Red Hook

Apotheke
Through a ruby red curtain lies a well-hidden gem that harkens back to the days when Doyers Street in Chinatown was called the Bloody Angle. Here you'll find an exquisite list of pharmaceutically-inspired cocktails served across an illuminated stone bar, and live jazz most nights of the week.
9 Doyers Street #1, Chinatown
Metrograph
A beautiful downtown cinema airing independent and niche genres, this Lower East Side spot also touts a stunning upstairs bar-and-restaurant to hold your attention until curtain. And they've got a selection of movie snacks so good that smuggling in your own is hardly admirable.
7 Ludlow Street, Lower East Side

Bluestockings
A feminist bookstore not entirely unlike the Portlandia parody, this Lower East Side space is ripe with books about race relations and magazines exploring the gender binary and fair trade coffee.
172 Allen Street, Lower East Side

Overthrow Boxing
A once-underground boxing ring is now home to one of the most versatile workouts in the city.
9 Bleecker Street, SoHo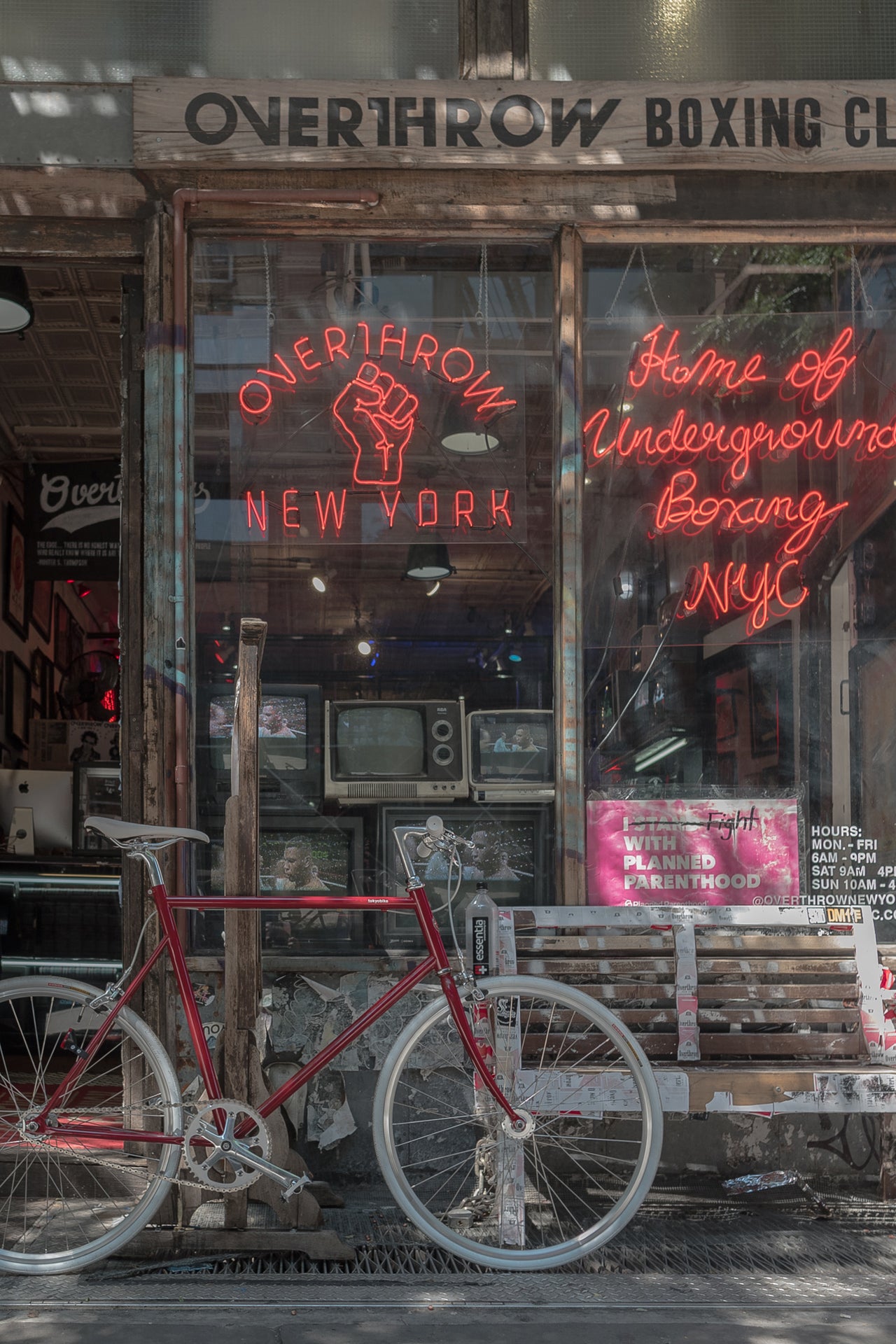 Sky Ting
The goddesses at Sky Ting have truly embodied the harmony of the practice in their spartan studios, replete with good vibes and the lingering scent of palo santo. They've also got spaces in Chinatown and Tribeca that are just as cute and quirky—all of them equipped with sofa pits for a post-practice meditation.
43 South 4th Street, Williamsburg

Devoción
Specializing in single-source Colombian coffee, this cafe in Williamsburg itself feels quite like un paraíso Bogotano. It's got vaulted walls capped with a skylight, a broad-leafed wall covering, and an in-house roastery, so find an empty seat if you can and hang out for a little while.
69 Grand Street, Williamsburg

Sun and Air
An adorable bike shop just under the Williamsburg bridge with a full-service coffee counter, Sun And Air is tokyobike's new partner shop in town and test rides are available seven days a week.
788 Driggs Avenue, Williamsburg

Leslie Lohman Museum
There are honestly too many museums and galleries in New York, but the Leslie Lohman Museum in SoHo is a wonderful reminder of the queer vibrance this city holds.
26 Wooster Street, SoHo
About Nate Cover
Nate is the Founder and Creative Director of Babyface, a design and content studio building experiences for URL and IRL. He's worked with brands including Nike, Milk, sweetgreen, Hello Mr., Away, and the National Geographic Channel, but mostly he's just hell-bent on improving queer representation in the creative industries.

@natecover
http://babyface.nyc